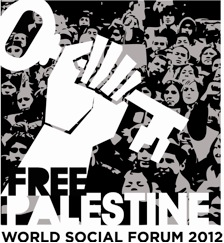 The Joint Struggle for a Free Palestine
A panel discussion on strategies and successes of various social movements 
Monday, September 10th at 7 p.m. @ the
Eric Quezada Center for Culture and Politics
San Francisco
The issue of Palestine is a critical struggle for global justice in its own right, and the collaboration between the US, Israel, and other Zionist institutions has profound implications for all of our movements.
PANEL: 
Moderator: Nina Farnia, National Lawyers Guild
Panelist: 
Jaime Veve: Labor, Puerto Rico Independence & immigrant workers organizer
Jimmy Johnson: Decolonize Detroit
Loubna Qutami: Palestinian Youth Movement
Monami Maulik: Desis Rising Up and Moving
Rabab Abdulhadi: Arab and Muslim Ethnicities and Diasporas Initiative
Sanyika Bryant: Malcolm X Grassroots Movement
Suzanne Adely: Labor Organizer and Al Awda NY 
Location: The Eric Quezada Center for Culture and Politics
518 Valencia Street, San Francisco, CA 94110
Between 16th and 17th (closer to 16th)
BART stop: 16th Street Mission
In November 2012, social movements from around the globe will gather in Porto Alegre, Brazil at the World Social Forum Free Palestine.
Join us for a panel discussion with prominent activists from a diverse array of social movements who are working to build a US and Canada delegation that emphasizes the importance of joint struggle.
Event ENDORSERS: American Muslims for Palestine, Arab and Muslim Ethnicities and Diasporas Initiative (AMED), Arab Resource and Organizing Center (AROC), Black Alliance for Just Immigration, Desis Rising Up and Moving, International Jewish Anti-Zionist Network, Malcolm X Grassroots Movement, May First/People Link, Middle East Children's Alliance, Palestinian Youth Movement, US Campaign for the Academic and Cultural Boycott of Israel (USACBI), US Social Forum National Planning Council,US Palestinian Community Network 
For more information, see our website: www.ussf2010.org/wsfpalestine