USPCN in solidarity with the Black community of Baltimore, and with all fighting for liberation and self-determination!
The United States Palestinian Community Network (USPCN) stands in solidarity with the brave people of Baltimore who are rising up in justified anger at another instance of vicious police violence against Black communities in this country. A few weeks ago, Baltimore resident Freddie Gray, a 25-year-old African American, was chased down and arrested by Baltimore police, who still have not offered probable cause for even approaching him. Gray died a week later of spinal injuries that he clearly suffered while in police custody.
Two days ago, USPCN-Chicago responded to a call from the Black Youth Project 100, joining close to 1,000 people in protesting Gray's murder at police headquarters on the southside of Chicago. Members and supporters of USPCN also participated in many other protests across the country, as we have since the killing of Michael Brown by police in Ferguson, Missouri, last year.
Enough is enough. That is what Black people in Baltimore are saying, and what they have every right to say. Police are killing Black people at an alarming rate, and the response from mayors, governors, even presidents, is nothing more than a call for calm. USPCN is not calling for calm. We are calling for unqualified support and solidarity with Black people in Baltimore, Chicago, New York, Detroit, Oakland, Ferguson, Miami, Milwaukee, and everywhere else police are killing their sisters, brothers, mothers, and fathers.
If there is no more discussion to be had, that is clearly understandable, as it would be if Black people were sick and tired of discussing race relations, and community relations with law enforcement, and issues of political representation. They have been victims of national oppression and racism for hundreds of years, and it is not their responsibility to remain calm. It is their right to do exactly what they are doing—rising up against white supremacy and systems of government that treat them as second-class citizens.  We must stand with them.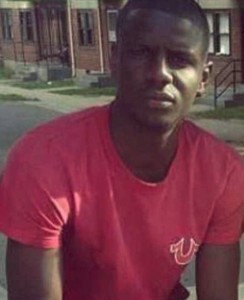 In this moment, Palestinians, Arabs, and Muslims in the U.S. have no choice but to be on the right side of history. No vacillating, no questioning, no criticizing, no reservations. We cannot continuously expect the solidarity of our neighbors in this country, in regards to the self-determination and liberation of our people in Palestine and the rest of the Arab World, without reciprocating in support of Black people, who face Israeli-style racism, repression, and devastation right here at home. Don't let anyone say that Baltimore is not the same as Palestine; that one people have a right to rise up and resist, and another do not. That is the height of hypocrisy and exceptionalism, and an absolutely unacceptable and inaccurate analysis of the situation.
Police departments across the country must be held accountable to elected, civilian councils, and everyone should travel to Chicago on August 29th to make this demand. The police officers who killed Freddie Gray must be prosecuted, just like the murderers of Michael Brown, Rekia Boyd, and all the others should have been. The fact that so many of these police officers who kill Black people are not arrested or prosecuted or convicted should prompt every single one of us to rally and protest with Baltimore.
The relationship between Black and Arab people in this country is an important one. For Palestinians, it is partially rooted in the history of Afro-Palestinians, who have been at the forefront of our struggle since the Nakba. So many of them, like Ali Jiddah, who was swept up in the same 1969 Israeli raid as our beloved Rasmea Odeh, continue to work tirelessly in resistance to the continued colonization of our land. Here in the U.S., there are real issues and real challenges that need resolution, and we must struggle seriously with racism in the Arab community at the same time as we build solidarity with the Black community and identify the common enemies—poverty, lack of economic development, political repression, lawmakers' indifference, and especially the crimes of local and federal law enforcement.
Another part of Palestinian history and tradition is the honoring of those martyred on the path to liberation. Today's struggle for Black Liberation upholds its own martyrs as well, from Freddie Gray and Trayvon Martin to Rekia Boyd and Eric Garner. We at USPCN recognize that these and all the other lives taken from us are sacred, so when Black communities came out last year in protest against the murder of Michael Brown, and in support of liberation and self-determination, they found Arab and Palestinian solidarity everywhere. Now Baltimore deserves exactly the same and more.
United States Palestinian Community Network (USPCN)
April 30th, 2015
#FreddieGray
#BlackLivesMatter