USPCN heeds Addameer's call for social media action on Palestinian Prisoners' Day Monday, April 17th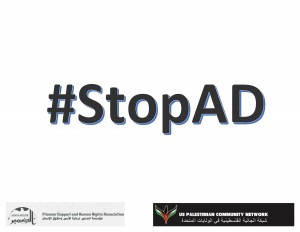 Today, April 17th, 2017, USPCN salutes our brave prisoners and marks the International Day of Solidarity with Palestinian Political Prisoners by joining Addameer's action alert.
TAKE ACTION: 
1. Share a picture of yourself holding a poster with the hashtags #Free_Palestinian_Political_Prisoners, #StopAD (Stop Administrative Detentions campaign), and / or #NotATarget (Human Rights Defenders campaign) written on them (use the images embedded in this post)…
And / or share a picture of a Palestinian prisoner or detainee alongside the hashtag posters…
Then post on Facebook and Twitter, and make sure to tag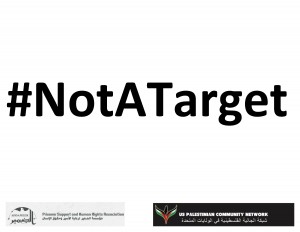 @addameer and @uspcn in your posts.
2. Support the open ended hunger strike that began with over 1,500 prisoners in Palestine today!   Demands include family visits, proper medical care, an end to Israel's practice of administrative detention, and an end to the use of isolation (solitary confinement).
3. Our friends at Samidoun have put out a schedule of events for Prisoners' Day around the world, including actions in NY, DC, and other cities in which USPCN chapters are participating.
4. Join us as we accompany Rasmea Odeh to her plea hearing in Detroit on April 25th, 2017!
5. Finally, join Addameer's campaigns, Stop Administrative Detention and Human Rights Defenders.  See the website for more of its important work.
**********************
Palestinian Prisoners' Month, April 2017

Addameer Prisoner Support and Human Rights Association calls on campaigners, activists, and people of conscience to take actions for Palestinian Prisoners' Day on Monday, April 17th, 2017, and to stand in solidarity with all Palestinian political prisoners.
Every year, April is considered Palestinian prisoners' month.  In this month, the Palestinian people and worldwide supporters of justice and liberation for Palestine express their support through demonstrations, rallies, marches, events, and actions that commemorate, support, and build solidarity with the struggle of imprisoned Palestinians.  2017 marks the 50th year of military courts and military orders, which control all aspects of Palestinian civil and political life.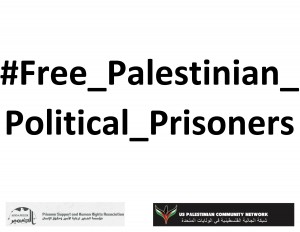 Approximately 6,500 Palestinians are currently held in Israeli prisons and detention centers, including close to 300 children; and nearly 550 prisoners are held under administrative detention, a form of detention without charge or trial that Israel uses to hold Palestinians indefinitely.
Each year, the Israeli military arrests thousands of Palestinians in an attempt to suppress any resistance to its continued occupation and apartheid policies. Among these are hundreds of children, some as young as 12 years old. In too many cases, Palestinian children are ill-treated, placed in solitary confinement, tortured, and/or coerced into signing a confession in Hebrew, a language that most Palestinian children do not understand. Every year approximately 500-700 children are sentenced in Israeli courts.
Night raids are the most common form of arrest, during which Israeli soldiers will ransack an individual's house, destroying personal property and physically abusing family members. The arrested person will then be handcuffed and blindfolded before being thrown into the back of an Israeli military jeep, face-down, where the beatings, insults, and humiliation will continue.
Under Israeli military law, Palestinians can be interrogated for a period of 75 days and denied access to a lawyer for 60 days. Since 1967, approximately 75 Palestinian detainees have died as a result of torture while under Israeli interrogation.
Every day, Palestinian prisoners are on the front lines of struggle, facing torturous interrogation, nighttime raids, solitary confinement, and relentless attacks on their rights at the hands of Israeli occupation forces. These attacks are aided by international and corporate complicity, support, and profiteering. Palestinian Prisoners' Day is a critical time to stand against state and corporate complicity with Israeli imprisonment of Palestinian political prisoners.
Addameer Prisoner Support & Human Rights Association urges all people to organize events throughout the month of April to stand in solidarity with the struggle of  Palestinian political prisoners.  2017 marks 100 years of the Balfour Declaration, 70 years of the Palestinian Catastrophe (al-Nakba), and 50 years of brutal military occupation.
This is also the year to hold the Israeli occupation accountable for its actions, and to demand the immediate release of all Palestinian political prisoners!
# End #