Day-long hunger strike and encampment in solidarity with Palestinian political prisoners Thursday, May 11th, in Burbank, IL
WHAT: Join us in a day-long hunger strike and encampment in solidarity with the over 1,500 Palestinian political prisoners currently on an open-ended hunger strike in Israeli prisons.
WHEN: Thursday, May 11th, 2017, from 10 AM to 7 PM.  Press conference at 4 PM.
WHERE: Parking lot in front of 8527 S. Harlem Ave., in Burbank, Illinois.
WHO: Chicago-based family members of Palestinian political prisoners and hunger strikers, U.S. Palestinian Community Network (USPCN), Students for Justice in Palestine (SJP) –
DePaul University, SJP – University of Chicago, Palestinian American Community Center, and many other solidarity and community activists and institutions.
In addition, ALL THIS WEEK: Call Secretary of State Rex W. Tillerson at 202-647-9572, and ask him to pressure Israel to agree to the Palestinian hunger strikers' basic humanitarian demands!
#PalestinianPoliticalPrisoners
#PalHunger
#DignityStrike
#StopAD
According to Addameer Prisoner Support and Human Rights Association, as of April 2017, there are 6,300 Palestinian political prisoners in Israeli prisons. More than 1,500 of them are on their 3rd week of an open-ended hunger strike. We join Palestinian organizations and solidarity groups around the world, and continue to heed th
e call of the Strike of Freedom and Dignity until the prisoners' demands are met.
Deplorable conditions within Israeli prisons have caused considerable health concerns for all prisoners, especially those on the hunger strike. The practice of isolation (solitary confinement), for example, holds prisoners alone or with an additional person for 23 hours a day, allowing only one hour for solitarily walking around while shackled. Family members wishing to visit those detained in Israeli prison face overwhelming restrictions on their movement, which make even semi-regular visits nearly impossible.
While completely isolating the prisoners, the Israeli Prison Service also commits deliberate medical negligence and deprivation of basic educational access for children as well as adults. And the situation grows graver, as the Israelis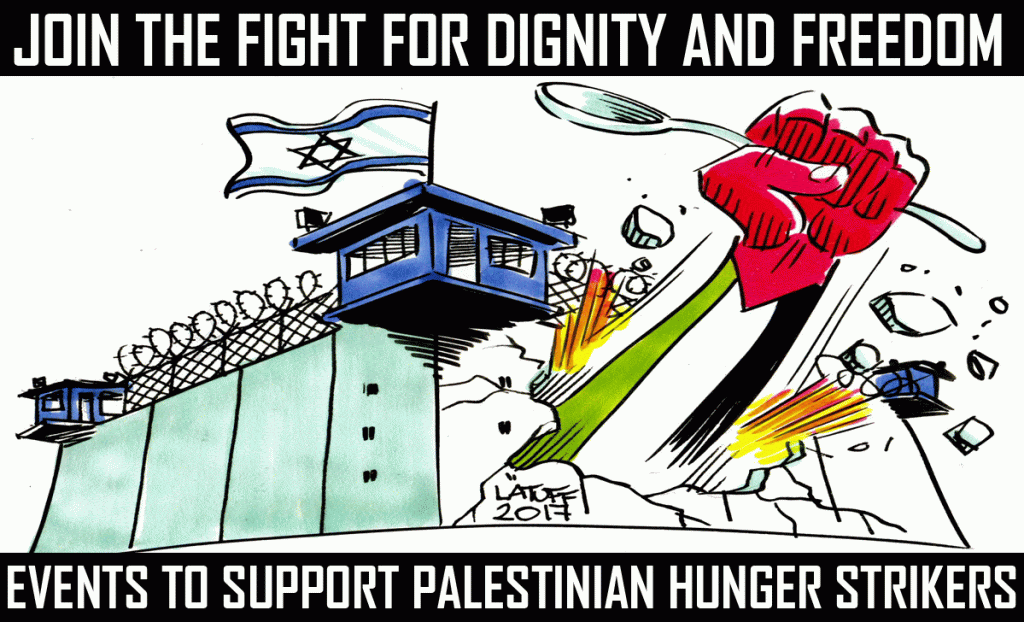 plan to enact harsher repression and unlawful treatment practices, including confiscation of salt used by strikers for survival.  There are also reports that Israel may begin force feeding them as well.
Now in Day 21 of the strike, as the strikers begin to experience loss of balance, muscle, and fatigue problems, people around the world continue to rise up in solidarity to respond to the calls of the prisoners.  Student groups, community members, political figures, and other sectors of society are organizing around the cause for dignity, while some have actively joined the strike, including Archbishop Atallah Hanna.
###